Urban agriculture is proliferating across the state of California on both public and private lands, taking the form of school, community, church and backyard gardens, vertical and rooftop farms, for-profit and non-profit enterprises, as well as a whole suite of other food production methods.
These urban farms are transforming the landscape of food production, helping to address urban food insecurity, creating opportunities for micro-enterprise development, and educating our youth and the public about the value of growing and eating healthy foods. The value of urban farming is indisputable, as studies provide mounting evidence of the myriad social, economic, ecological, recreational, therapeutic, and nutritional benefits of urban agriculture.
Urban farming is emerging at a growing number of sites. It is very much in flux with respect to its many forms and implementation. It addresses a wide range of goals and it represents a very broad array of motivations.
This video — the first in a series of 26 upcoming videos — provides a general introductory overview of some of the variety of urban farms in California today. It highlights the work of 13 urban farmers from Los Angeles through the Bay Area cities of Oakland, Berkeley, and Hayward. This video captures the creativity, innovation and dedicated work that is underway on a wide range of urban agriculture fronts at this time in California. This is indeed a very exciting and challenging time for urban farmers.
With an estimated 50 percent of our nation's farmland projected to change hands in the coming ten years, new farmers and new farming models are going to be needed to meet the needs for food that we will have. Urban agriculture is likely to play a role in meeting these huge challenges.
This video was produced by UC Davis, Cal Poly, and Fresno State. Jeff Mitchell, faculty member and Cooperative Extension Specialist in Plant Sciences at UC Davis and UC ANR, was Team Manager for the video.
YouTube videos in this series
About the video series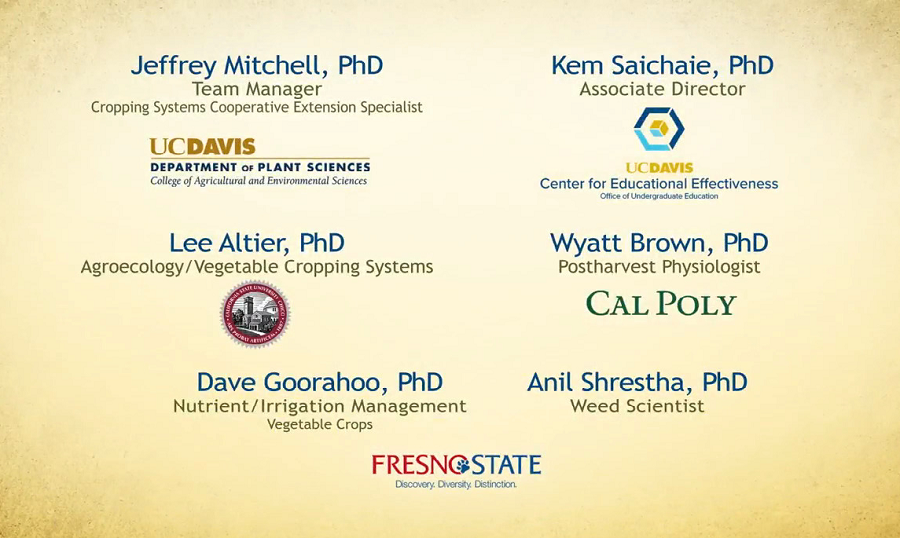 .